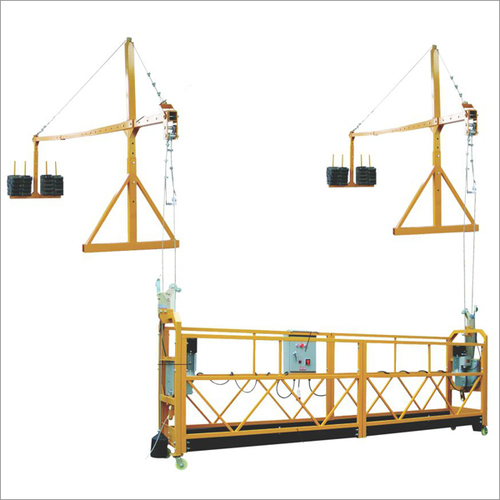 Rope Suspended Plateform
Product Description
Rope Suspended Platform
Centrifugal Speed Limiter:
If RSP travelling (Up or Down) speed increased beyond the rated speed, this devices gets activated and stops RSP operation. This device generally activates during free fall and brake failure conditions.
Over Hoist / Top Limit Switch:
Function of over hoist limit switch is to prevent the over run of the cradle and hitting the suspension mechanism. When the limit switch level touches upper end, power supply to electrical motor gets stopped.
Electromagnetic Brake with manual release:
Hoist motor is provided with electromagnetic brake as primary holding device. Manual release mechanism shall help the cradle to be lowered to the ground level in case of power failure.
Over current protection thro' Relay (OLR):
This will be part of electrical control system. If the electrical motor draws beyond rated current due to overloading, this protection device will cut-off the electrical system.
Model type

ZLP 800

Rated speed

800 kg

Lifting speed

9m/min

Max lifting height

100 meter

Dimension of platform (LxWxH)

(2.5m x 2+1m +1.5m) x 0.76mx1.45m

Suspension mechanism

Front beam overhang

1.3-1.7m

Adjustable height

1.15-1.75m

Hoist




Model

LTD 8.0




Lifting force

8 KN

Motor

Power

1.8 KW

Voltage

415V, 50HZ, 3phase

Rotation speed

1400 R/Min

Brake torque

15.2Nm

Safety lock

Type

Tilt proof safety lock

Locking cable angle

3-8 degree

Allowable impulsive force

30KN

Weight

Suspension platform including hoist, safety lock, electric control panel.

540 kg

Suspension mechanism

400 kg

Counter weight

1000 kg

Whole machine weight without steel wire rope and power

1940 kg

Wire rope

type

4X31SW+FC8.6

Platform type

Plastic coated